Amy Pezzani
Since 2004, Amy Pezzani has led the Food Bank for Larimer County as its Chief Executive Officer.  Amy is responsible for the day to day operations of the organization, including human resources, financial management, fundraising, advocacy, public relations and strategic planning.
Formerly, Amy spent seven years with a similar food bank in Springfield, Missouri, four of those years as Executive Director.  Within the Feeding America network, she is a past member of the National Council (NAC), an elected representative body of the Feeding America members. The NAC represents and gives a voice to over 200 member food banks while helping Feeding America's National Office set goals and policies that affect the entire network.
Locally, Amy is a member of Fort Collins Rotary and a board member of Feeding Colorado. She is a past member of the board of Hunger Free Colorado. In 2009, she was nominated as a Woman of Influence by the Northern Colorado Business Report. In addition to her years in food banking, Amy spent time on the other side of the "food chain" as the General Manager of a natural foods grocery store and also with the Boys and Girls Club as the Development Director.
Amy moved to Colorado in 2002 from Missouri where she was a graduate of Southwest Missouri State University.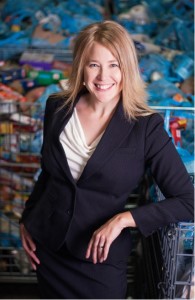 Chuck Gill
Chief Operations Officer, cgill@foodbanklarimer.org
Food Bank
Heather Buoniconti
Chief Development Officer, hbuoniconti@foodbanklarimer.org
Food Bank
Operations
Chuck Gill, Chief Operations Officer
Nathan Kay, Operations Manager
Heather Womack,  Warehouse Coordinator
Josh Johnson, Inventory Control Coordinator
Josh Greene, Food Resource Manager
Glenn Kuhns, Custodian
Jordan Lavelle, Food Link Technician
Resource Development
Heather Buoniconti, Chief Development Officer
Julia Halualani, Community/Events Coordinator
Sharlene Johnson, Grants Manager
Jennifer Jakovich, Development Associate